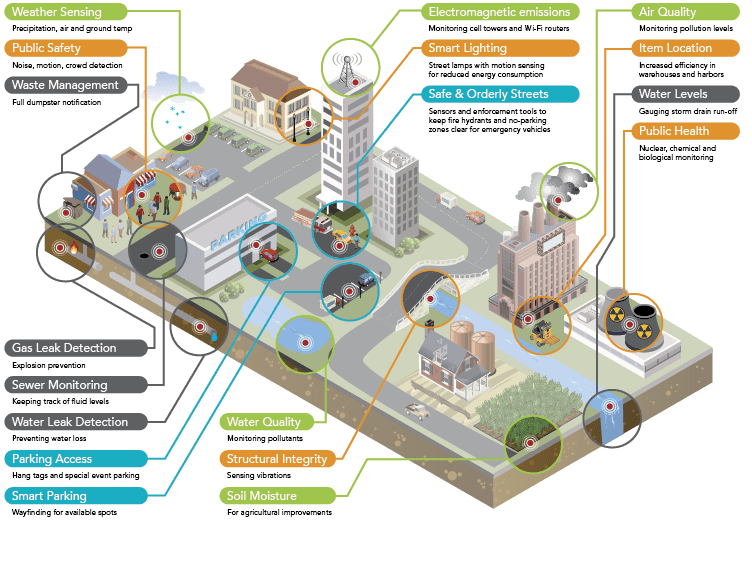 The Fybr Smart City Platform
Our highly secure, end-to-end, IoT solution delivers real-time data on things like lighting, transportation, weather, air quality, and water level monitoring and turns the collected information into actionable insights that allow communities to make proactive and informed decisions.
To build a smart city, you have to start with a smart city ecosystem.
Fybr's comprehensive, modern framework spans from edge devices to cloud servers—delivering real-time sensing data, with intelligent machine-learning algorithms to proactively detect issues and address them before they become a problem—all with reduced installation times and affordable prices.
Designed from the ground up, our highly accurate and durable solution is flexible enough to meet the needs of any community large or small, and can easily be integrated into existing operations. 
Our portfolio of services—strategy, design, device and system prototyping, and program management—provides communities with the best and fastest opportunity to create a return on investment. 
Experience At Scale
The Fybr Smart City Platform has proven its ability to deliver accurate, reliable, real-time data across thousands of devices in some of the harshest urban environments. 
Fast Deployment + Cost Savings
Our end-to-end solution means that once Fybr's gateways are deployed in a community, we provide a network that can easily support multiple initiatives on one platform—reducing clutter, service providers, and cost. This is all achieved while guaranteeing security parity across multiple use cases.
Focused on Security
Security as the foundation of everyting we do at Fybr. By controlling the entire chain from edge device to server, our platform offers true end-to-end authenticated encryption. 
Fybr has been selected as a leading Smart City partner by a number of the top system integrators, such as Siemens, World Wide Technology, Inc., HPE and Conduent (formerly Xerox). These large organizations have evaluated our platform, sensors, engineering, and total solutions capability before teaming with us to provide holistic solutions. The consensus from each organization is that Fybr's proven track record and ability to provide the technological expertise to support smart city initiatives will prove to be critical to ensure project success – all while reducing infrastructure costs by utilizing one consistent, reliable platform across multiple verticals.